Rare Madagascar duck successfully bred by Durrell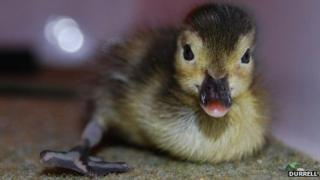 A "very rare" duck has been successfully bred at a Madagascan facility run by people working for Jersey's Durrell Wildlife Trust.
Durrell said the Madagascar pochard duck was thought to be extinct until explorers found a very small community of them in a remote lake in 2006.
Two years ago Durrell ran what it called an emergency expedition to find some of the birds eggs.
Now the birds from those eggs have also produced offspring.
The success has been welcomed by the Wildfowl and Wetlands Trust, which has worked with Durrell on the project.
Dr Glyn Young, a conservation biologist with Durrell, said: "The ducklings represent an incredible step forward in the fight to save the Madagascar pochard from extinction.
"Seven years ago, people thought this bird was already extinct and yet the discovery of one small population and now the arrival of these ducklings has led to real hope the birds can one day flourish again."
Peter Cranswick, head of species recovery at the Wildfowl and Wetlands Trust, said: "Fishing is thought to be one factor that led to the pochard's decline but many rural Malagasy people earn their livelihood from fishing.
"The challenge is to find a solution that helps both the people and the birds."