Church of England dumbing down: Rector Anthony Swindell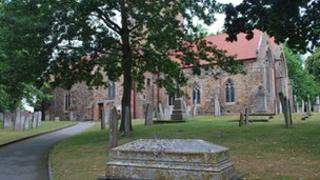 The Church of England is dumbing down and needs to revert to more traditional ways, a Jersey vicar has claimed.
The rector of St Saviour Dr Anthony Swindell said religion was being "over-simplified to make it more popular".
He said people were too worried about salesmanship and not enough about Christianity.
Head of the Anglican Church in the island and the Dean of Jersey, the Very Reverend Bob Key, said it was a broad Church and one size did not fit all.
Dr Swindell said he was worried traditions were being "abandoned" to get more people into churches.
Mr Key said: "There are some people in the Church of England who like to worship with great guitars and sound systems and others who like to worship more traditionally.
"I think there should be space in the Church of England in Jersey for all of those, it is a rainbow, one size doesn't fit all."
Dr Swindell said the tactic of trying to get people in using modern methods was not working and religion needed to be more challenging.
He said: "You can simplify it so much and make it so acceptable for people you end up with something a long way from the values of the faith itself.
"People have got too worried about salesmanship and haven't thought enough about the core nature of Christianity."
Mr Key disagreed with Dr Swindell and said that he had more churches whose congregations were growing than were static or declining.
Mr Key said: "I think when you proclaim a straightforward message of God's love and the death and resurrection of Jesus, as they say, sheep go where the grass is.
"It is going back to its tradition, we tried in a bit of the 19th Century and a bit of the 20th Century, some churches tried a liberal approach.
"But across the world the churches that are growing are the churches that say 'God isn't going to change his mind'."