Jersey Police Tasers cost estimated at £32,000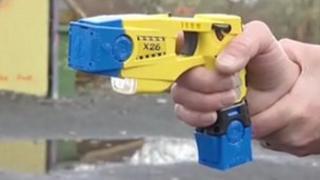 Equipping Jersey Police with Taser stun guns will cost at least £32,000 says the chairman of the panel looking into the idea.
Deputy Jeremy Macon is asking for islanders' views before the States debates the issue.
The electrical weapons are used to subdue violent suspects.
Mr Macon said Home Affairs needed to prove they were necessary because spending in challenging economic times had to be explained.
He said: "We have to ask the question 'How is this to be justified?'"
The review by the Education and Home Affairs panel will consider when Tasers might be used in Jersey, the alternatives, the human rights issues, the costs involved and police training.
There will be a public hearing on 27 April when the panel will interview the minister and the police chief.