Channel Islands' VAT 'loophole' LVCR ends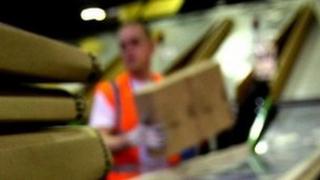 The Channel Islands' so-called VAT loophole, Low Value Consignment Relief (LVCR), has ended.
Jersey and Guernsey governments took the fight against the scrapping of LVCR to the UK High Court, but lost.
Jersey's Economic Development Minister Senator Alan Maclean said he expected to know whether the States would appeal on Monday or Tuesday.
The Jersey and Guernsey governments said hundreds of jobs across both islands were at risk.
LVCR meant no VAT was charged on goods under £15, such as CDs, when sent to the UK from outside of the European Union.
Senator Maclean said his department was doing all it could to protect that part of Jersey's economy.
In Guernsey, HMV announced it was closing its fulfilment warehouse putting 46 employees at risk of redundancy.
There were 26 job losses announced at Healthspan and about 30 at 7dayshop.com.
Guernsey Post said it would be increasing stamp prices to reduce the impact of the loss of LVCR.
Boley Smillie, chief executive of Guernsey Post, said: "To put the price increase into perspective, the loss of LVCR will reduce our profit by £3.7m over the next 12 months."