Jersey cadets meet Princess Royal at Buckingham Palace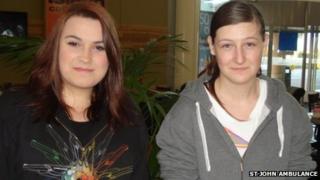 Two Jersey cadets have met The Princess Royal at Buckingham Palace.
St John Ambulance Cadets, Lorraine Murray and Kayleigh Carson were chosen for their achievements at the charity.
They completed the Grand Prior Award, the highest award a cadet is able to achieve, describing it as "an amazing experience".
Kayleigh said it was "a great way to celebrate completing the award", which involves at least three years of work studying 24 subjects.
"Being a St John Ambulance Cadet has provided me with the life saving skills that allow me to be the difference between life and death," Kayleigh said.
The pair were amongst 84 young people invited to the Buckingham Palace to represent the first aid charity, after each county selected two award winners.
Bernadette Gavey, St John Ambulance Commissioner for Youth, said: "We believe that all young people should have the chance to learn first aid.
"Lorraine and Kayleigh have worked hard and shown their dedication to St John Ambulance.
"The Palace reception is a perfect way to recognise their achievements."