Jersey has more employed despite record unemployment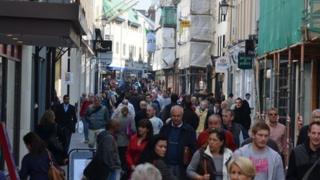 The number of people working in Jersey is rising despite an increase in unemployment, according to the States' statistics unit.
Latest figures show total employment went up by 1% in 2011 and is at its highest level for 15 years.
At the end of 2011, nearly 54,000 islanders were in either full-time or part-time employment.
Almost half of all businesses are single person undertakings and more people are working in part-time jobs.
The Economic Development Minister, Senator Alan Maclean, said the rise in part-time employment had been driven by necessity.
He said: "Households are perhaps feeling the challenges of the current climate, inflationary costs are rising.
"Other members of households are going out to work, taking up part-time jobs to help balance budgets."
Jersey Unemployment rose for the sixth month in a row in February, with 1,820 people registered as out of work.