Jersey company concerned over later mail plane arrival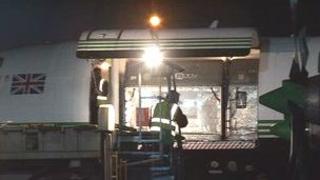 The news that Jersey's newspaper and mail plane will arrive 30 minutes later has annoyed the head of a newspaper distribution company.
Gary Nicklin, from Jersey Distribution, said the later arrival time would cause companies to lose money.
Jersey Post said declining mail volumes and higher costs were factors in the decision to bring the plane in later.
Jersey Airport opens at 05:30 BST Monday to Saturday for the mail and newspaper aircraft from Bournemouth.
'Not consulted'
Mr Nicklin said customers would have to wait up to an hour later for their paper.
He said: "We weren't really involved in any of the consultations or discussions with the airport, which we were particularly unhappy about.
"The plane will arrive at 06:00 BST but it then takes 20 minutes to unload so the earliest we will have the papers is 06:30 BST.
"The 30 minutes we lose at the start of the day is going to end up at almost an hour by the time we get through traffic that is increasing at 07:00 BST."
Jersey Post, Royal Mail and the newspaper publishers association will no longer pay the thousands it costs to open the airport at 05:30 BST in the morning for the mail plane to arrive.
They will be arriving in Jersey 30 minutes later from 2 April.
Andy Jehan, from Jersey Post, said: "There will be an impact for some of our customers who will see a delay of 30 minutes on their delivery times.
"However we are optimistic that through process change we can start minimising this and improve on this wherever possible."