Jersey government funding for tourism projects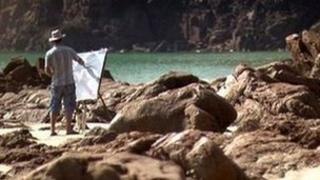 Projects that could help attract tourists to Jersey will be able to apply for States funding.
Public sector and voluntary organisations can ask for a share of the Tourism Development Fund.
It was set up in 2003 to help non-profit groups such as the Branchage Film Festival go ahead.
In order to qualify for funding organisers will have to demonstrate their event will bring extra visitors to the island.
The fund has previously supported events including the Liberation Music Festival and the Jersey Boat Show.
In May the States of Jersey will debate whether to allow private businesses access to the fund.
Festival funding
The treasury minister said the fund had enjoyed "considerable success" over the past 10 years.
In 2010, it provided funding for the Liberation music festival, a food festival, boat show and fish festival.
It also paid for the installation of mains electricity to occupation sites and funding for the Branchage film festival.
In total £222,000 was awarded by the tourism development fund in 2010. Figures have not been released for 2011 yet.
Senator Ozouf said opening the funding up to private enterprise would help encourage entrepreneurialism.