About 40 Jersey Post jobs 'at risk' when LVCR is scrapped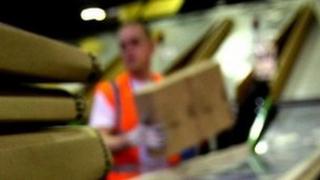 Jersey Post could lose 10% of its staff when the UK government scraps Low Value Consignment Relief (LVCR), its chief executive has said.
Kevin Keen said the effect on the mail order industry would have a significant impact on the island's postal service.
He said more than half of the firm's profit and about half of its mail currently comes from the industry.
The UK government will stop Channel Island companies selling goods tax-free to UK customers from 1 April.
The High Court ruled earlier this month that ending LVCR for just the Channel Islands and not other non-EU members was not discriminatory.
Jersey's Economic Development Minister, Senator Alan Maclean, said the States would know by the end of this week whether it would appeal the UK High Court's decision.
'Strong possibility'
The relief means no VAT is charged on any goods valued less than £15 when sent from anywhere outside of the European Union to the UK.
It was introduced in 1983 to help speed up the transit of low-value goods, which may have otherwise been delayed by customs.
It was also meant to reduce costs because collecting VAT on small-value items was found to be higher than the value of tax it brought in.
Mr Keen said he was considering other changes, such as increases in stamp prices.
He said: "Out of our 400 people who work for us altogether, that's 40 people affected.
"We're hoping that through voluntary redundancy, through taking up other vacancies, we'll reduce the number of people who finally lose their jobs to a minimum, but it's still a strong possibility I'm afraid."