Jersey Royal potato harvest is delayed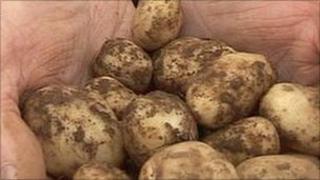 Jersey Royal potatoes will be harvested two to three weeks later than usual this year, says an island grower.
Trevor Le Maistre from the Jersey Royal Company said a heavy frost in February had delayed the crop.
He said the dry weather could now affect its size so it would be another challenging year for potato growers.
Jersey Royal potato growers have had two bad harvests in a row with frosts and bad weather in 2010, compounded by last year's drought.
The first crop of 2012, grown in greenhouses, was harvested four weeks early because of a mild winter.
It was thought to be the earliest crop in the Jersey Royal's 130-year history.
Jersey exported about 30,000 tonnes of Jersey Royals worth more than £30m to the UK and further afield in 2011.
The potato variety was given special protected designation of origin status in the 1990s.