Jersey air display attracts Cri Cri plane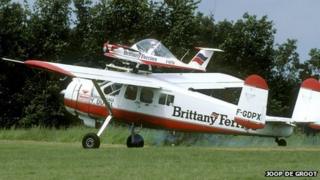 A rare aircraft which takes off from the back of another plane will feature in the Jersey air display.
The Cri Cri, an electric plane, will be launched from a Broussard while in mid-air before performing an aerobatic sequence and landing at the airport.
The last time this signature manoeuvre was performed in the British Isles was before World War II.
Organiser Deputy Mike Higgins said the plane would be a unique attraction at the display.
Short Mercury
The last time one aircraft was launched from another in Great Britain was in 1939 when the Short Mercury was launched off the top of the Short Mayo seaplane.
The Mercury was designed to take air mail across the Atlantic but did not have sufficient engine power on its own to take off with a full fuel load and cargo.
It used the engine power of the larger Mayo to get airborne and generate enough lift so that when it separated it could then fly on to the US and Canada.
The 2011 air display had to be cancelled because of heavy fog, something organiser Deputy Mike Higgins said put a strain on finances.
He said the current sponsors were still helping, but they needed more support from local businesses.
Also announced in the display line-up was the Viggin - a Swedish dynamic jet that is now out of service - the Red Arrows and the Battle of Britain Memorial Flight, featuring a Lancaster, Spitfire and Hurricane.
The Jersey International Air Display 2012 will take place on 13 September and is expected to attract hundreds of people to the island.