Jersey considers minimum alcohol pricing strategy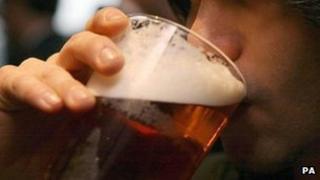 Minimum pricing on alcohol could be considered in Jersey.
Chief Minister Senator Ian Gorst said the States could consider it if it works in the UK.
His comments come after the UK Government proposed a minimum price of 40p per unit of alcohol in England and Wales on Friday.
The government believes the new strategy could transform the behaviour of those who cause the most problems for hospitals and police.
Senator Gorst said it was something Jersey's health department were looking at.
He said: "We do know that unfortunately alcohol and alcohol addiction is a problem within certain areas of our community.
"As a community as a whole perhaps our alcohol consumption is higher than some other communities."
But Mark Crowther, chief executive officer of the Liberation Group, one of the pubs, drinks and brewing businesses in Jersey, said setting prices should not be up to politicians.
He said: "The government's role really should be about educating sensible drinking just as we do as a business.
"I'm slightly reticent about governments getting involved in and telling businesses how much they should be charging for their products.
"Whilst I know that the UK Government has announced a consultation about potentially introducing a 40p per unit minimum price, actually when you work through the numbers that would make absolutely no difference."