Jersey appeal to record toad sightings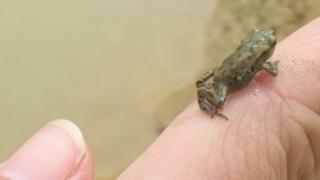 People in Jersey are being asked to watch out for toads and report any they find to the island's Toadwatch Campaign.
The campaign was set up to protect the animals during breeding season.
The Durrell Wildlife Conservation Trust said the common toad,Bufo bufo, had been disappearing from areas where it was once common.
The trust is working with the States of Jersey and the Jersey Amphibian and Reptile Group (JARG) to track them.
The campaign wants people to send records and reports of toad, tadpole and toad spawn sightings in gardens and ponds.
Organisers said Toadwatch, which has been running for seven years, had helped them build a picture of where toads are breeding.
It has also identified ponds no longer containing any sign of toads.
Toadwatch co-ordinator Wendy Van Neste said: "By studying ponds over a period of time, vital information can be gained on the distribution and movement of amphibians in Jersey.
"Sometimes during this time of year ponds can seem overcrowded with tadpoles. This is a normal situation. Toads and tadpoles are important natural prey for lots of birds, reptiles and aquatic insects.
"Only a fraction of those tadpoles you see will hop out as toadlets. There is no such things as too many tadpoles."