Islanders 'unable to afford' home in Jersey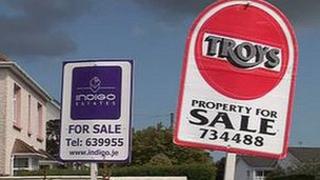 Research found 41% of Jersey's working households were unlikely to be able to afford to buy a home in 2011.
That figure was down on 2010 when research suggested 47% of households could not afford a mortgage on a home.
The States Statistic Unit carried out the research on Jersey's housing affordability.
It worked out the average price to buy a home in Jersey and the average income, and compared these figures to work out affordability.
'Independence needed'
In Jersey, six times the annual income is needed to buy a home. This put Jersey in the top 20 local authorities with the highest ratio of house price to income.
Jersey's Housing Minister Deputy Andrew Green said the report was incredibly useful because it confirmed his "gut feelings" about the housing market.
He said: "I want to invest in creating as much independence as possible rather than dependence, so it again confirms we need to do something about affordable homes and about first-time buyer homes.
"We're in a very good position to do something about it."
Deputy Green said the government planned to build on States-owned land to make homes more affordable, and introduce a deposit scheme to help people to buy a home.