Former Jersey politician wants boycott of reform group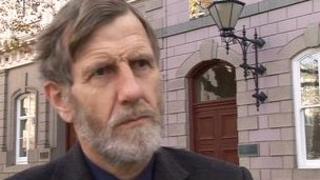 An appeal to boycott a new electoral commission has been made by the former politician who originally brought it to the States.
Daniel Wimberley, who proposed the electoral commission in 2011, said it had been "stolen by the establishment".
His original idea was for a body to examine reform outside of the States with no politicians.
Approved by the States in March, the commission has three politicians and three independent members.
Deputy Wimberley is urging anyone thinking of applying to serve on the Commission to think again.
'Political interference'
In a strongly worded open letter, the former Deputy said the idea had been stolen from the people.
He said: "They have taken out the three key elements; that it be independent of political interference, that the public have the ability to change their government, and that there should be some outside expertise.
"All those three things have been taken away and they have been taken away deliberately."
Assistant chief minister Senator Sir Philip Bailhache was voted as the chairman of the reform body.
He said it was important to have States members in the electoral commission because it was the members who would have to decide whether to accept the proposals.
The other two politicians on the group are Deputy James Baker and Constable Juliet Gallichan.