Jersey's Forgotten Forest should be ready for diamond jubilee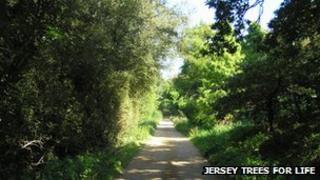 Jersey Trees for Life is working to restore the Forgotten Forest at Val de la Mare in time for the Queen's Diamond Jubilee.
The 50,000 sq m arboretum has tree specimens from all over the world.
The charity, Jersey Trees for Life, will be clearing and replanting the woodland which is in an area of land leased from Jersey Water.
Michel Morel, from the charity, said the arboretum was unique in Jersey and contained many unusual tree species.
He said the project also marks the charity's 75th anniversary this year.
The trees were planted in the late 1970s and early 1980s but are now overgrown from a lack of maintenance.
Mr Morel said many corporate organisations had offered staff to help with the work to restore the arboretum.
He said he would also consider approaching Social Security to get assistance from some of the island's unemployed.
He said: "The 10th of June is actually the exact date of our 75th anniversary, so a very appropriate date to have an open day down here.
"That weekend there will be lots of free activities going on and we hope many members of the island public will come down and will take the opportunity to explore the Forgotten Forest."
The charity was set up in the island in 1937 as the Jersey Association of the Men of the Trees.
In 2008, the charity changed its name to Jersey Trees for Life.
It has been responsible for planting tens of thousands of trees around the island in the past 75 years.