Islanders in Jersey warned of 'legal high' drug dangers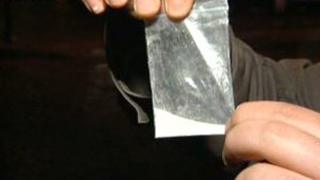 Authorities in Jersey are warning about the dangers of substances known as legal highs.
Jersey's health department said newer drugs had emerged known as Ivory Wave and Benzo Fury which are as dangerous as illegal stimulants.
The importation of these drugs into Jersey has now been prohibited.
Jersey's Misuse of Drugs Advisory Council said it was "deliberating on a proposal to classify them as controlled drugs as soon as practicable".
The health department said the side effects of taking the drugs, which are similar to amphetamines, included paranoia, mental problems and addiction.
Benzo Fury is a colourless liquid and Ivory Wave is a white powder often sold as bath salts.
'Human guinea pig'
There are believed to be more than 40 legal highs and some are thought to have caused 42 deaths in the UK.
Jersey's medical officer of health Dr Susan Turnbull said: "My advice to anyone considering taking unknown or even branded substances is don't be a human guinea pig.
"If you don't know what's in it, then don't take it."
Michael Gafoor, director of Jersey's drug and alcohol service, said: "Users are advised that the drugs must not be injected or mixed with other drugs including alcohol.
"Do not use alone, limit the amount you use and avoid re-dosing and seek urgent medical attention if you feel unwell."
Jersey's health department said class B drugs carried a maximum penalty of five years in prison for possession and 14 years for supply along with an unlimited fine.