Jersey 'needs better representation' in UK and Europe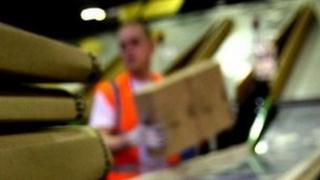 Jersey urgently needs better representation in London and Brussels, according to the president of the Chamber of Commerce.
David Warr said a seat at the table of government would help reduce surprises, such as the closing of a tax loophole.
Jersey lost a case in the High Court to have the UK Treasury's plan to close a VAT loophole ruled unlawful.
Parcel company, Hub Europe, has announced six redundancies in response to the decision.
Christopher Bee, from Hub Europe, said nearly all of his business came from shipping low value goods like CDs, DVDs and supplements to the UK.
Mr Bee said: "We have to assess how our customers are going to react and what help we can depend on from the States.
"We will be losing six people this week because of the decision and it now rests with the States to see what can be done to support the business that remains.
"Companies have already left the island or are in anticipation of leaving and so services are no longer required in Jersey."
Jersey's foreign minister, Senator Sir Philip Bailhache, said: "If we had had had a London office it's possible that more could have been done to improve mutual understanding.
"That is exactly the kind of thing that the London office would have been able to engage with to ensure mutual understanding between the UK and Jersey government.
"Work is being done on the economics of whether an office there would be feasible."
'Surprises'
Low value consignment relief (LVCR) allows Jersey companies to sell cheap goods to the UK without charging VAT.
Mr Warr said Jersey had not been paying enough attention to issues outside of the island, and the LVCR decision should not have come as such a shock.
He said: "I think for me the biggest learning curve is about representation.
"I think Jersey needs physical representation in London at the table of government.
"If you are not right up close where the action is, where decisions are being made, then you get these kind of surprises."
Jersey's government said about 700 people were directly employed by companies selling low-value goods and about an extra 800 were indirectly affected by the closing of the loophole.
The ending of LVCR means the market in CDs and small-value goods shipped from Jersey to the UK will come to an end on 1 April.
Mr Warr said the industry must now diversify and come up with new ways to move forward.
Mr Bee said that he hoped many companies would stay in the island as Jersey was "very skilled in e-commerce".
He told BBC News: "Jersey has very well established supply chains and links to the UK. We can do things as cheaply here as they can in the UK."
Jersey's Economic Development Minister Senator Alan Maclean said he was disappointed at the decision.
"The changes, which are targeted against the Channel Islands alone, create an uneven playing field.
"We know that some businesses will find it difficult to compete under these circumstances and, as such, jobs are likely to be lost."