Jersey colour blind artist has first exhibition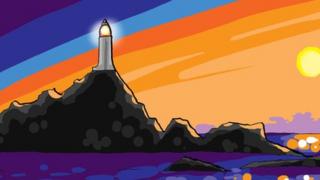 A colour blind artist from Jersey has opened his first exhibition as part of the 175th anniversary celebrations of a St Helier department store.
Jason Gautier has been painting since he was a child but has had to adapt and "be creative" with colour.
He said: "I have a strong mixture between red and green. For some pinks I can only see grey or if it is too faint I can't see it.
"It isn't a hindrance, it just means I have to be a little bit more creative and sometimes you have to go back over work."
One piece Jason had to change was a portrait of two children.
"I actually made them look a little bit sick because they were green around the sides," he said.
Jason said over the years he had developed his own style of working while drawing inspiration from the work of street caricaturists. He uses modern technology to give his work a bright and distinctive look.
When he is not using a computer to add colour to his work, Jason says he has to mix them all from the base colours so he knows exactly what goes into them.
The exhibition is part of the 175th anniversary of the Voisin department store in Jersey, where the cafe is based.
He will have a number of works on the walls of Cafe 1837 in the store for about six months.
Jason said: "When I contacted Voisins because they were looking for local artists they looked at my website and picked some they liked.
"I have a cartoon print of Gerald Durrell and a baby gorilla, I have a cartoon of a Jersey Cow spilling milk and a cartoon of Corbiere Lighthouse."
While working digitally on works for this exhibition, Jason's portfolio of work includes painting, acrylics, charcoal and air brushing.