Jersey politicians approve States reform commission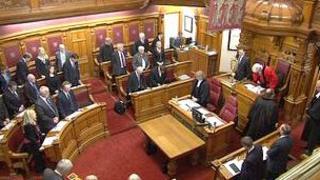 A review into the make up of the States of Jersey and the island's electoral process will go ahead, politicians have agreed.
Members voted 32-14 in favour of setting up an Electoral Commission to look into the issue of reform.
It followed a decision on Tuesday that States members would be allowed to sit on the new panel.
Senator Sir Philip Bailhache was elected as chairman, beating Deputy Geoff Southern by 29 votes.
The assistant chief minister had 34 votes to Deputy Southern's five, with four members abstaining.
Rejected amendments
Deputy James Baker and Constable Juliet Gallichan were elected as the other two members after being nominated by the chief minister Senator Ian Gorst.
They were elected unopposed after a suggestion by Senator Bailhache that there should be one deputy, one constable and one senator on the panel to represent the three types of office.
States members spent part of Tuesday and Wednesday debating whether or not to establish the commission including two amendments.
Deputy Roy le Herissier failed to convince enough members to increase the scope of the commission or remove politicians from the group.
A move to establish a group of experts to advise and support the commission was also thrown out.
Senator Bailhache has been tasked with finding three non-States members to make up the remainder of the commission.