Jersey Royal potatoes have earliest start in a century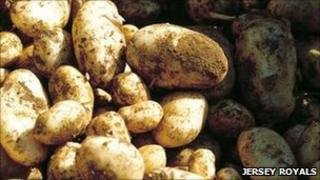 UK supermarkets are selling Jersey Royal potatoes four weeks early.
It is the earliest the potatoes, grown in greenhouses, have been ready in more than a century.
A spokeswoman for Sainsbury's said despite them going on to the shelves sooner than usual they would taste as good as ever.
Growers in Jersey said the early harvest was down to the mild winter and they were expecting the outdoor harvest to be ready on time.