Jersey artist creates sand track to mark Sport Relief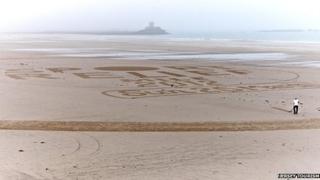 A sand artist has created a running track in the middle of St Ouen's beach to launch the Jersey Sport Relief mile.
Andy Coutanche said it was his largest piece of artwork yet and was tested by Jersey mile organisers who ran around the track.
The work is 256 metres long and more than 400 metres in circumference.
Mr Coutanche used his great grandfather's rake to carve the track and Sport Relief logo into the sand.
He said that he was having to race mother nature to complete the work before the tide came and washed it away a few hours later.
"Sport Relief does fantastic work to help vulnerable people in the UK and across the world's poorest countries. I hope my work will inspire others to go the extra mile," he said.
Jersey hosted beach art championships in November 2011 that saw artists from around the world use the island's beaches as their canvas.
More than a million people are expected to take part in the Sport Relief mile to raise money for vulnerable people across the UK and in the world's poorest countries.
The Jersey Sport Relief Mile is on Sunday 25 March at 13:00, starting at the Jersey Scout Centre in St Ouen's Bay.