'Confidence returning' to Jersey property market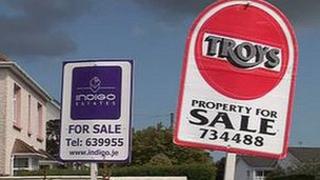 Jersey's property market will begin to pick up this year after remaining fairly static for the last four years, according to an estate agent.
John Crespel, from Crespel Estates, said there were signs confidence was returning to the housing market.
Although there have been some fluctuations, average prices are at similar levels to four years ago.
The average price of a home in Jersey was £423,000 in the last quarter of 2011.
That is £6,000 less than Guernsey, but £80,000 more than London.
'Good news'
Mr Crespel said: "I think in the coming months and perhaps over the next two years we will see an upward turn in terms of confidence.
"People are moving on with their lives, prices look attractive at this time as do interest rates, there is availability in the mortgage market, confidence is coming back without any question."
Jersey's Housing Minister, Deputy Andrew Green, said: "I think that's a really good news story that people thinking of buying now can buy with confidence.
"Particularly when you compare us to other parts of Europe, dare I say southern Ireland, you know we've done very well."
But Peter Seymour, from the Mortgage Shop, said vendors needed to be realistic about the asking price if they wanted to sell their homes.