Jersey civil partnerships expected by April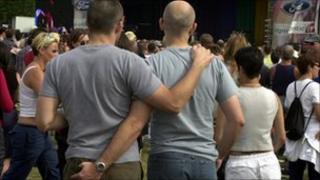 Same-sex couples in Jersey should be able to enter into civil partnerships by April, if the the States approves legislation changes.
The move would give same-sex couples the same pension rights as married men and women.
The States still needs to approve changes that will add hundreds of words to the statue books to bring them in line with the civil partnership law.
There are more than 50 pieces of legislation that need to be changed.
The changes give same-sex couples the same rights, benefits and responsibilities as heterosexual married couples.
Jamie Laffoley, from Jersey, said he had proposed to his partner two years ago on the London Eye and had been waiting since then for Jersey to introduce the changes so they could get married there.
He said: "We could have done it two years ago in London, but we looked at each other and said, 'we'd better not, as our mothers would kill us'."