Lee Durrell honoured with MBE for conservation work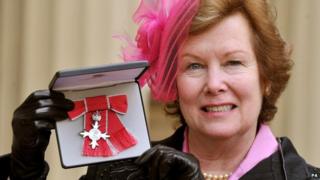 The honorary director of the Durrell Wildlife Conservation Trust in Jersey has been recognised at Buckingham Palace for her conservation work.
Lee Durrell, whose husband was naturalist Gerald Durrell, was honoured during the investiture ceremony on Thursday.
She was made an MBE, and dedicated it to all the members of "Durrell's Army".
Dr Durrell thanked the hard work of the conservationists who either work or were trained at the trust.
The US-born environmentalist said: "Conservation used to be on the fringes and I definitely feel Gerry was a pioneer in what we now call bio-diversity conservation.
"It is so important because it is the species of animals and plants that are the nuts and bolts that hold the eco-systems together, and that is what he saw so long ago, and that's why we concentrate on endangered species."