Jersey Post moves Trinity Post Office to the parish hall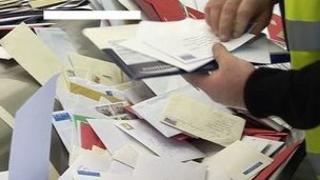 A temporary post office has opened at Trinity Parish Hall following the "unexpected closure" of Trinity Stores.
Jersey Post said the Trinity Constable and his staff had agreed to help by allowing a temporary post office in the parish hall.
It will open Monday to Friday 10:00 and 14:00 GMT.
The owner of the Trinity Post Office told Jersey Post in January he was closing temporarily to reassess his personal circumstances.
It has been closed since then, and the head of Jersey Post, Kevin Keen, said the parish hall would be used "whilst the future of Trinity Stores is determined."
He added: "We are still hopeful Trinity Stores will reopen under new management before too long and the post office will form part of that business, but meanwhile this is an excellent solution and we are very grateful to the parish for providing it and to JT Global for making it happen so quickly."
Trinity Constable John Gallichan said: "A post office is an important service for parishioners and so we were delighted to be able to assist Jersey Post in finding temporary facilities right at the heart of our community."