French politicians visit Jersey to discuss tax and finance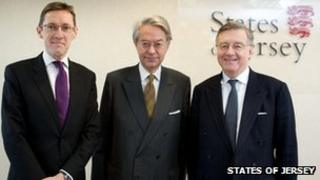 Two senior French politicians are in Jersey to discuss tax and finance and its role as a financial centre.
Two members of the Senate Finance Committee, which looks after finance laws in France, are leading the visit to Jersey.
It follows an official visit by Jersey politicians last year.
They will be holding discussions with the Chief Minister Senator Ian Gorst and his Assistant Chief Minister Senator Sir Philip Bailhache.
The talks are expected to concentrate on Jersey's role as a finance centre and the regulations it uses.
The Senate Finance Committee president, Senateur Philippe Marini and the Committee's Rapporteur General, Senatrice Nicole Bricq, are in Jersey for the day.
Senator Bailhache said: "We are pleased to have the opportunity to host the Senate Committee in Jersey and to continue the valuable dialogue that began in Paris last year.
"It is important that senior politicians are able to see at first hand the high levels of regulation and transparency that are the cornerstones of Jersey's reputation as an international finance centre."