Jersey Royal potatoes are the earliest ever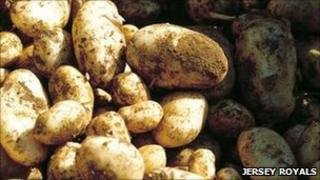 The first Jersey Royal potatoes of the season will be harvested next week.
It is thought to be the earliest harvest since the potato variety was developed about 130 years ago.
The potatoes, which have been grown indoors, will go on sale in the UK in the next week to 10 days, a month earlier than usual.
Potato growers said the mild winter had led to the early arrival, and outdoor crops were also likely to be earlier than usual.
Trevor Le Maistre, of the Jersey Royal Company, said the mild weather had brought the crop on "quicker and sooner than it would have done ordinarily for many previous winters".
He added: "As far back as records can allow us to see, we are looking at probably one of, if not the earliest crops in history."
But last year was a difficult season for Jersey Royals after a drought in April, May and June reduced the amount of potatoes grown and sold.
It meant farmers were not able to meet the demand of UK shops in 2011.