Jersey Dairy's anger at cruelty photos on Facebook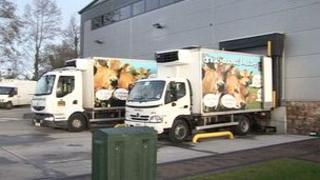 Jersey Dairy has complained to police about images of animal cruelty posted to a Facebook page called Jersey Milk.
States of Jersey police said a number of people had contacted them expressing disgust at the photos on the social networking page.
The images were removed by Facebook on Tuesday.
Jersey Dairy managing director Eamonn Fenlon said he has been trying to get in contact with Facebook to get the page shut down.
Facebook said it removed the images which broke its terms of service and had warned admins that if they continue posting similar images the page would be removed.
A Facebook spokesperson said: "Behaviour and content on Facebook is governed by our Statement of Rights and Responsibilities.
"We encourage people on Facebook to use the reporting tools, accessible on almost every page of the site, to report content that makes them uncomfortable."
'Shocking images'
Mr Fenlon said: "It is damaging to the company and to the island and is a matter I intend to take up with Facebook.
"It has gone from being an innocent site where kids were having a bit of fun to something a lot more serious.
"I imagine when the kids opened their Facebook this morning they got some very shocking images on their computer and that is not right."
The Jersey Milk Facebook profile was set up in March 2009 by an unknown author and has more than 4,300 "likes".
It was originally designed as a parody of Jersey Dairy - containing gentle humour about cows and milk.
On Tuesday a number of images of animal cruelty appeared on the page.