Jersey gets new rules for cigarette packet picture warnings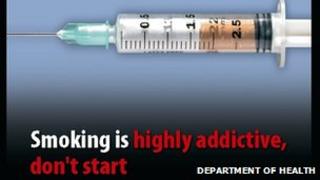 Cigarette packets must have picture warnings to be sold in Jersey from Wednesday.
The new rules, agreed by the States last year, will bring Jersey into line with Guernsey and the UK.
The health department said retailers have had a year to prepare for the new regulations.
Health Minister Deputy Anne Pryke said: "We hope placing warnings on tobacco products will put young people off from starting smoking."
'Avoidable death'
The health department said adding a picture to the existing warnings on cigarette packets had encouraged some smokers to quit.
And it said someone who smoked a packet a day could potentially see the warnings about 7,300 times a year.
Andrew Heaven, head of health improvement at the health department, said: "Tobacco continues to be a significant cause of avoidable death and disease.
"It is important that these measures are put in place as they will reinforce existing support to help people give up smoking."
From next year loose tobacco will also need the picture warnings.