Jersey's Fire Service car wash raises funds for cancer trust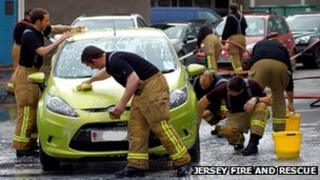 Jersey's Fire and Rescue Service has said it raised a record amount in its charity car wash.
The event on Sunday raised £3,236 for the Jersey Branch of the Wessex Cancer Trust.
Phil Falle, from Jersey Fire and Rescue Service, said 265 cars were washed by past and present off duty firefighters.
He said: "It was a fantastic turnout and the total raised smashed all previous totals."