Jersey's Town Park play equipment could change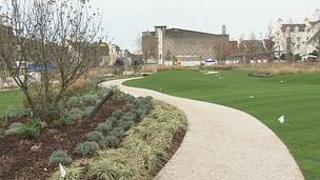 The play equipment and plants in Jersey's Town Park could be changed after complaints from residents.
The St Helier Constable Simon Crowcroft said about two dozen park supporters attended a meeting at the weekend where he heard both positive comments and concerns.
The concerns included noisy equipment and dull plants.
He said the comments would be listened to and supporters would meet regularly to review the park's success.
The noisy piece of play equipment will be reviewed by safety inspectors next month.
Bernie Manning, who campaigned for the park to be built, said he had received calls from residents who said it sounded like "a garage door slamming."
There were also concerns that the plants in the park were a bit dull and the head gardener told the meeting there would be more colour there soon.
'Calming effect'
There were plans to form a new group called Friends of the Millennium Town Park, but they have been put off until March.
People living near the park, which opened in October, told the meeting disruption from those using it had improved.
Residents had complained the noise from young people gathering there at night was "unbearable".
It saw the authorities hire temporary security guards to patrol the area after dark.
Mr Manning said: "It seemed to have quietened down a bit, but [the noise] was not coming from the teenagers, most of it was coming when the pubs and clubs close in the early hours of the morning."
He said young people at the meeting said they would like the Youth Bus run by the Youth Service to visit the park on Saturdays as well as Fridays.
He said they told the meeting it had a "calming effect" on the young people using the Town Park.