Crime in Jersey is at lowest level in 10 years, say police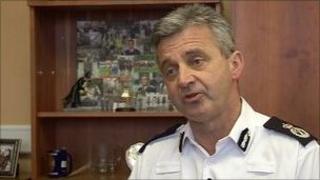 Crime in 2011 was at its lowest level for 10 years, according to a report from the States of Jersey Police.
The 2012 States of Jersey Policing Plan said crime was down by more than 12% compared with 2010 - about 500 fewer offences.
The figures showed it was also a third lower than a decade ago.
The police said high-profile policing, targeting prolific offenders and road safety had all played a crucial part in bringing down crime.
Chief of Police Mike Bowron said: "The lowest overall crime figure for a decade is something to be extremely proud of and I hope the people of Jersey, and those who visit, will be reassured at our commitment to protecting and serving our communities."
Jersey's Home Affairs Minister Senator Ian Le Marquand said: "The 2012 Policing Plan... gives greater emphasis to road safety, to crime prevention and to the provision of value for money.
"At the same time, the re-introduction of bicycles and motorbikes and other measures will give greater flexibility to the police force.
"I am confident the successful implementation of the 2012 Policing Plan will lead to yet further reductions in crime levels and improved public safety."