Two Jersey men in 'lucky escapes' from fires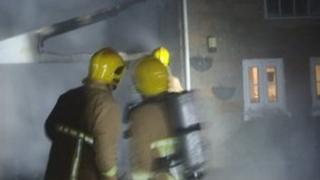 Fire chiefs in Jersey have warned people to fit smoke alarms after two men escaped from fires.
One man was treated for burns and for smoke inhalation after the kitchen in his Grand Vaux home caught fire. A woman and baby there were unharmed.
Another man escaped from a fire, which started in the garage of his home in St John, spread to the first floor where he was sleeping.
The sound of the fire spreading into the bedroom woke the man.
Watch Commander Ryan Hall added "Although the occupants in both incidents were extremely lucky to have been woken by the fire, neither had sufficient smoke detection to alert them sooner.
"Don't leave it to chance, a working smoke alarm will save you life."