Jersey Post's Diamond Jubilee stamp sells out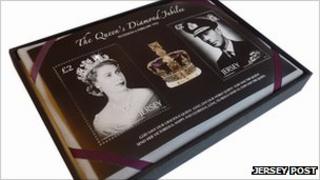 All 600 special edition stamp sheets featuring a real diamond, issued by Jersey Post to mark the Queen's Diamond Jubilee, have sold out within a week.
Each hand-cut 1.25mm diamond is fixed to a crown worn by the Queen on one of the two stamps in the souvenir sheet of limited edition stamps.
The other stamp features her late father, King George VI, and both are in a special box.
The stamp will be released on 6 February but all 600 were pre-ordered.
'Tremendous response'
More than half of the special stamps, which were priced at £125 each, were ordered by Jersey residents.
Head of the Jersey Philatelic Bureau Sally Ferbrache, who designed the issue, said: "This is a tremendous response and what is even more pleasing is the response from the people of Jersey as well as our dedicated customers."
She added: "People collect stamps for all sorts of reasons.
"The hobby is often thought of as dying out; in fact, it has never been a more exciting time to collect stamps.
"Through these tiny works of art, postal administrations are providing a platform to showcase innovative designs and printing techniques in what remains a highly competitive market."
Jersey Post said the same souvenir miniature stamp sheet, without the diamond, was still available.