Jersey recognises civil partnerships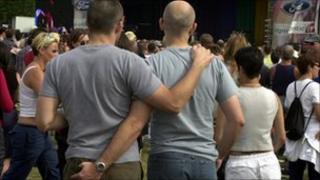 Same sex couples taking part in civil partnerships in Jersey will have similar rights to heterosexual couples getting married.
The law to introduce civil partnerships was registered in the Royal Court in January and should come into force in the next few weeks.
A law was introduced in the United Kingdom six years ago.
Thirty separate laws have had to be changed to make sure they apply to the new civil partnerships.
Estelle Burns, family law advocate with Le Gallais and Luce, said the law would also allow civil partners to adopt children.
She said: "It is the first time in the Channel Islands that unions between same sex couples are to be granted any legal recognition at all.
"This will have a profound effect on daily life, not just for those couples but for the island as a whole."
The States adopted the law in July and the Queen sanctioned it in December.
The laws range from the adoption law to inheritance laws with the oldest dating back to 1862.