Two climb out window to escape severe fire in Jersey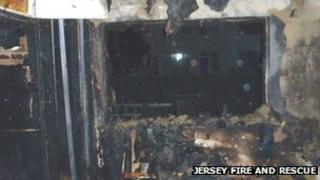 Two people had to climb out of a bedroom window to escape a severe fire, said Jersey's Fire and Rescue Service.
The fire started at the home in Bellozane Avenue in St Helier at about 23:00 GMT on Tuesday.
It was in the first floor of the building and took hold quickly in the bedroom and landing, the service said.
Firefighters quickly brought the fire under control but stayed for more than three hours damping down and clearing smoke from the ground floor rooms.
'Extremely lucky'
There were concerns the fire would spread to surrounding properties.
Watch commander Larry Vibert said the occupants were "extremely lucky to have survived".
The cause of the fire is being investigated.
Mr Vibert said: "Once again occupants have been alerted to and escaped unharmed from a property involved in fire by the early warning of a working smoke alarm.
"It has enabled the fire service to arrive quickly on scene and prevent unnecessary further damage to the property.
"The working smoke alarms in this property had been fitted by Jersey Fire and Rescue Service personnel in September 2009 as part of their ongoing community fire safety initiative."