Jersey Hospice beats Christmas tree collection record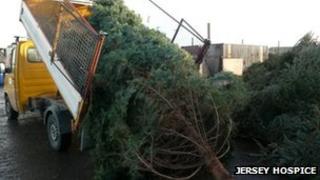 Jersey Hospice's collection of Christmas trees for recycling has raised a record amount for the charity.
Louise Reynolds from Jersey Hospice said £24,000 had been raised and more was coming in every day.
Last year £23,000 was raised, but despite only 20 more trees being collected this year, there were more donations made.
A spokesman for Jersey Hospice said: "We had a bumper year and raised more than ever before..."
'Amazing'
He added: "Thank you to all our customers, volunteer van drivers, the people who loaned us vans and the volunteers who manned telephones and helped with the mapping.
"You've all been amazing and we couldn't have done these collections without your support"
Jersey Hospice provides free palliative care for patients with cancer and motor neurone disease. Its running costs are more than £6,000 a day.
The trees will now be recycled into local compost by the States of Jersey.