Jersey politician supports narrow gauge railway trial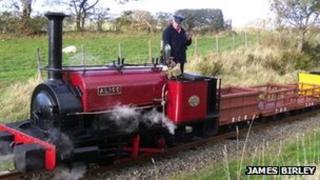 A Jersey politician said he would like to see the island's old railway track restored.
It comes after UK railway enthusiast Nigel Harris suggested bringing trains back to Jersey.
He recommended a trial from the old Corbiere Station running 250 metres towards St Aubin.
St Brelade Deputy Sean Power said it was a good idea and he would be writing to the ministers of planning and transport and technical services.
He said: "There are lots of people out there who would like to see some of the Railway Walk but can't because they have maybe mobility issues or disability problems.
"A small train on a narrow gauge like that would possibly afford them a chance to just see some of the country, I think it would be good."
'Lasting legacy'
Nigel Harris, who edits Rail Magazine, said the infrastructure was already in place in the form of the Railway Walk, which would be the most expensive part of the project.
But he said it would depend on what lies beneath it.
Jersey used to have a railway until 1936 when the last train ran between St Aubin and Corbiere.
The track bed remains and the Railway Walk is well used by walkers and cyclists.
Meanwhile Julian Birley, director of North Norfolk Railway, has offered to lend the island his Hunslet 2ft gauge locomotive Alice, subject to details being finalised.
He has also secured the services of two skilled track engineers, from the Bala Lake Railway where Alice is from, who would supervise track laying.
Deputy Power said: "The train has a place in Jersey's history, it's as important as the Napoleonic forts.
"The Railway Walk is a lasting legacy of that, and we have World War Two and all the bunkers and some of them have been restored so I think people would be sympathetic to the train."