Jersey to light British Isles most southerly jubilee beacon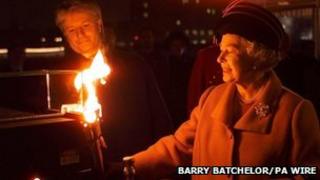 Jersey will light one of 2,012 beacons to mark the Queen's Diamond Jubilee.
St Clement's Church will host the most southerly flame in the British Isles in a chain of celebration to mark the monarch's 60 years on the throne.
Parish rector, the Rev David Shaw, said the church would light one of the official beacons on 4 June 2012.
But he said exactly where it would be and who would take part had yet to be decided.
'Magical'
The Bailiff, Michael Birt, is due to make a formal announcement on the island's plans to mark the Queen's Diamond Jubilee to the States Assembly at the end of the month.
Bruno Peek, pageantmaster of The Queen's Diamond Jubilee Beacons, said: "It's going to be magical, absolutely magical.
"This will be the last Diamond Jubilee our generation will see and our children will see."
He added: "The Golden Jubilee beacons were so successful but we're well ahead for the Diamond Jubilee.
"We've got 1,029 registered and we've still got five months to go."