Jersey narrow gauge railway trial a step closer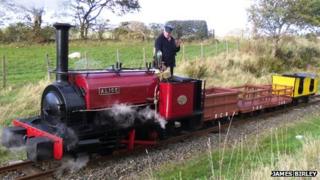 A UK businessman has offered to lend Jersey a steam engine for a narrow gauge railway trial.
Julian Birley, director of North Norfolk Railway, said: "It would bring something new to the island and to rail preservation in Great Britain."
He said it would be a great opportunity to introduce islanders to a steam locomotive.
He has agreed to lend the Hunslet 2ft gauge locomotive Alice, subject to details being finalised.
Mr Birley said: "Jersey having not had any serious steam connections for many years, this would be a hugely fun opportunity to come over and introduce people possibly for the first time to the workings of a steam locomotive."
He added: "Alice used to work on the mountain opposite Mount Snowden in Wales for the best part of 100 years, fetching and carrying slate."
It comes after a UK railway enthusiast suggested bringing trains back to Jersey.
Nigel Harris, who edits Rail Magazine, said the infrastructure was already in place in the form of the Railway Walk, which would be the most expensive part of the project.
Jersey used to have a railway, but in 1936 the last train ran between St Aubin and Corbiere.
However the track bed remains and 76 years on the Railway Walk is well used by walkers and cyclists.
Mr Harris suggested setting up a trial from the old Corbiere Station running 250 metres down towards St Aubin.