Passengers stuck on Jersey-bound ferry for 24 hours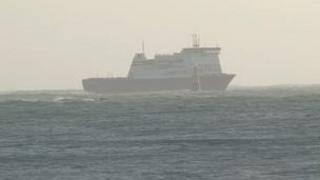 Passengers travelling from Portsmouth by ferry have arrived in St Helier harbour in Jersey after spending 24 hours at sea.
The Commodore Clipper was not able to dock at the Jersey port after the captain decided the strong winds and big seas made it too dangerous.
The boat had been sailing up and down the more sheltered east of the island from about 02:00 GMT.
The 125 passengers on board were given free food and drinks.
The crossing normally takes nine hours.
'Solid ground'
One woman passenger said: "It was very, very rocky and very long but they [the crew] were absolutely brilliant so I can't complain at all.
"Condor were fantastic, [they gave us] free food and free cabins, but I'm very happy to be here on solid ground."
The Commodore Clipper, which carries freight as well as passengers, left Portsmouth early on Wednesday afternoon and docked in Guernsey at 22:30 GMT before setting off again at about midnight.
Steve Bailey, Jersey's director of Condor Ferries, said: "The weather is extreme at the moment and before departing Portsmouth, the master would have taken into account all the weather information that he had from very many sources.
"Unfortunately the weather did deepen and we were unable at that time to actually get into port."
He added: "We expect the weather to moderate tomorrow [Friday] and are not currently anticipating any disruption to the high-speed sailings."
But he said delays to the Commodore Clipper's schedule were likely.