Narrow gauge railway in Jersey 'could create new jobs'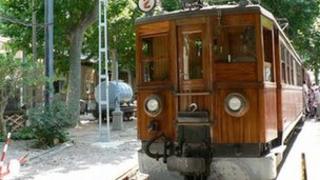 A UK railway enthusiast thinks a narrow gauge railway from St Aubin to Corbiere in Jersey would create new jobs.
Nigel Harris, who edits Rail Magazine, said the infrastructure was already in place in the form of the Railway Walk, which would be the most expensive part of the project.
He suggests putting in a track half the width of a normal railway.
He said: "It strikes me that you've got a railway here that's just missing the trains."
'Stunning views'
Jersey used to have a railway, but in 1936 the last train ran between St Aubin and Corbiere.
However the track bed remains and 76 years on the Railway Walk is well used by walkers and cyclists.
Mr Harris said people living along the route would have to be consulted, but believes a new railway would also boost tourism.
He added: "The idea of a three-and-a-half mile steam train ride from St Aubin out to Corbiere strikes me as something that would appeal to people, and, having walked the mile or so from Corbiere with those stunning views out to sea, I'm sure it would be popular."
Sam Pallot from the Pallot Steam Museum in Jersey welcomed the idea.
He said: "It was my father's dream to run a railway again from Corbiere down to St Helier; that would be very nice to see again."