Jersey's Electoral Commission could include politicians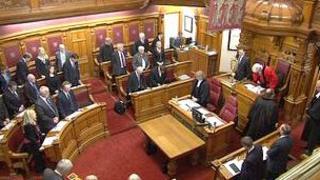 Politicians may become involved in the work of in a commission looking at States reform in Jersey.
Privileges and procedures (PPC), which sets rules for politicians, backed overturning a bar on them taking part.
The PPC, which set up the Electoral Commission, challenged the States' backing of ex-deputy Daniel Wimberley's argument it should be independent.
On Wednesday, the PPC also backed equalising the number of politicians and non-politicians sitting on it.
The non-politicians would almost certainly be local, but the positions would be open to people who do not live in Jersey but have a connection with the island.
Mr Wimberley, the former politician who brought the idea to the States last year, said it was crucial politicians were not involved in the commission once it is set up.
If the States votes for it in its changed form, the Electoral Commission will complete its work by the end of the year.
The commission will consider the classes of States members, constituencies and mandates, the number of states members and terms of office.
It will also look at the functions of the electoral process, voting systems and voter registration.