Wave nearly 10m high recorded off Jersey's coast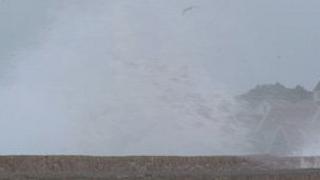 A wave nearly 10m (32.5ft) high has been recorded off Jersey's south coast, which the island's meteorological department says is a new record.
It was measured as 9.93m-high earlier on Thursday by the met department's data buoy five miles out to sea.
Met officer John Searson said storms overnight in the English Channel had seen winds gusting to 75mph.
He said the wave was "incredibly high... and exceeds the previous maximum recorded by quite some way."
Mr Searson said: "If you were on the sea surface just ahead of it, it would be about the height of a two-storey house."
'Gales will ease'
He said the department used to use a one-metre wave recording instrument that would break free during big waves.
Now a more substantial platform is used and this was the biggest wave this piece of equipment had recorded.
But Mr Searson said: "The long run of severe weather is now coming to an end, gales will ease this afternoon and by tomorrow (Friday) morning seas will have come down as well.
"This will allow ferry traffic to get back to normal, without interruption for the foreseeable future."