Jersey's Howard D lifeboat in Thames Diamond Jubilee Pageant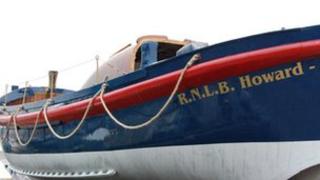 Jersey's first motorised lifeboat has been selected for the Thames Diamond Jubilee Pageant.
The Howard D, which was stationed in the island throughout the German occupation, has been chosen for the celebration in London.
It will involve up to 1,000 boats from across Britain, the Commonwealth and other countries lining up behind the Royal Barge on the River Thames.
Doug Ford from Jersey Heritage said it was a great opportunity for the island.
He said: "You don't often get river pageants of this size on the Thames and it's the Queen's Diamond Jubilee, so to be selected for that is very pleasing.
"It's also quite nice to be on the world stage because obviously this is going to be televised."
The Diamond Jubilee River Pageant, on 3 June, will be one of the main events of a four-day bank holiday weekend marking the Queen's 60-year reign.
The flotilla is expected to be seven-and-a-half miles long and will be made up of privately and commercially owned boats - ranging from rowing boats and sailing ships to steamers, wooden launches and larger motorised craft.
The Howard D first arrived in Jersey in 1937 and left in 1947 to join a central pool of RNLI vessels in the UK. As a lifeboat it would have required a crew of five, and had the capacity to carry more than 40 other people.
It then spent 20 years as a fishing boat on the east coast of England before returning to Jersey to be restored by a team of volunteers at the Maritime Museum.