St John Ambulance in Jersey to use bicycles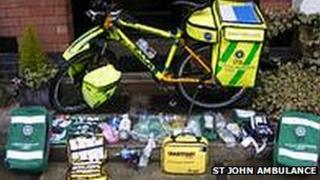 Bicycles are to be used by the St John Ambulance to help first aiders reach patients more quickly.
The cycle unit, paid for with sponsorship, will bring St John Ambulance in Jersey in line with 31 other units in the UK.
St John Ambulance is getting two bikes which it will use at events such as the Battle of Flowers and the Jersey Marathon.
They will allow first aiders to move more quickly through crowds at events.
Jane Allen, commissioner for operations at St John Ambulance in Jersey, said: "The cycles will be equipped with a defibrillator, that will now bring the number of these now available in the island to 120, as well as carrying other life saving equipment."