Jersey return for 7,000-year-old Neolithic ring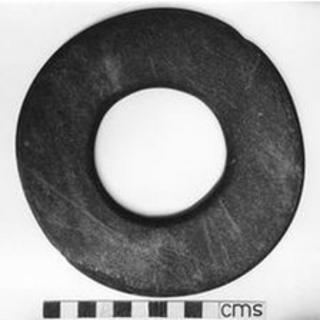 A Neolithic stone ring which dates back more than 7,000 years is to be returned to Jersey.
La Societe Jersiaise and Jersey Heritage bought the polished jadeite ring for $17,500 (£11,291) at auction.
The ring, which was found in 1986 and sold to a private collector in 1993, is considered to be one of the island's most valuable archaeological treasures.
It is made from stone quarried in the Alps and was brought to Jersey by the first farmers who colonised the island.
'Sophisticated ancestors'
Curator of archaeology at Jersey Heritage Olga Finch said: "It's incredible to think that as an important symbol of power and prestige, this beautiful stone ring passed hand to hand from its source in the Alps all the way to Jersey, 7,000 years ago.
"The skills and craftsmanship involved in making it demonstrates just how sophisticated our Neolithic ancestors were."
The ring, which was bought at an auction in New York, is to go on display at the Jersey Museum and La Hougue Bie.
Heritage groups in Jersey and the States of Jersey planning department are looking into introducing legislation that will give important archaeological and cultural artefacts protection.
There is currently no statutory obligation to report finds and no system to allow objects of great significance to be acquired for public benefit.