Jersey Police to send criminals a Christmas card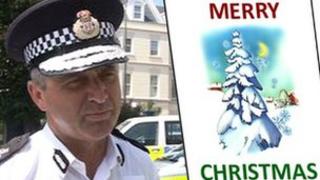 Jersey's most prolific offenders will be sent a Christmas card by the States of Jersey police (SOJP) to remind them they are being watched.
The cards will say: "Thinking of you during the festive season and throughout 2012. From all your friends at SOJP".
They will be hand-delivered to 30 of the island's most persistent criminals.
The cards will be taken by officers who make regular visits to check on offenders' whereabouts.
Between January and November 2011 recorded crime was at its lowest level for 10 year with 530 fewer crimes recorded than the same period in 2010.
Figures show that 233 of the 1,883 people arrested in 2011 were arrested for a second time, 48 of them five times or more and two offenders each arrested 14 times.
Det Insp Dave Burmingham said: "We are always looking for innovative ways to get the message across and the Christmas cards are an extension of our ongoing intelligence-led efforts to target prolific offenders.
"But the issues are very serious. A relatively small number of individuals are responsible for committing a large amount of crime impacting on many people, and these individuals need to be reminded that we are on to them, and if they choose to continue their criminal activity they will be caught."