Decision on Jersey media inquiry to be made in January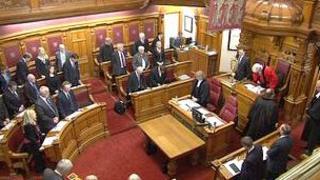 Jersey's politicians will decide in January whether to set up an inquiry into how the island's media operate.
Concerns were raised during a scrutiny review into a financial report on the historical abuse investigation.
The scrutiny chairman's committee president told the States there were three different committees looking at the possibility of an inquiry.
Deputy Tracey Vallois said the committees were working together to determine the best way forward.
The scrutiny review criticised the media coverage of the BDO Alto report into the financial handling of the historical abuse inquiry, which was a police investigation into child abuse in Jersey.
The police investigation began after allegations of abuse at former children's home Haut de la Garenne.
'Same hymn sheet'
Deputy Trevor Pitman, who headed the Education and Home Affairs Sub Panel, said the press coverage was very negative and gave a poor impression of Jersey's police force.
He is calling for an inquiry into how the media in Jersey operate.
Deputy Vallois was asked whether she would set up an inquiry following the Leveson Inquiry into media ethics in the UK.
She said: "We are one area, we are scrutiny and we as a chairman's committee have to all be singing from the same hymn sheet in order to ensure that if we should pursue this that it is an effective review and it determines the best way to take this forward."
She said a committee of inquiry could be used rather than the scrutiny process.